Crosstread Ladder Racks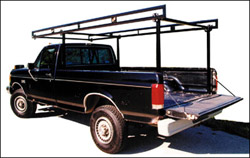 CrossTread specializes in "contractor tough" ladder racks designed to work with virtually any truck or van. All CrossTread racks are built in the USA by a family-run company that's been in the business for over 20 years. If you work in the trades and need to haul ladders or other large objects that won't easily fit in the bed of your truck or back of your van, we see CrossTread rack in your future.
Fits Any Truck, Installs Easily
Wondering if there's a CrossTread rack that will work with your truck or van? Of course there is. CrossTread designed their racks to work with virtually any truck or van on the road. What's more, they're easy to install. There's no special adaptor kit necessary to make them work with your vehicle, and everything you need to install a CrossTread rack is in the box with the rack.
If you'd rather have Cap Connection's installers put your rack on, we can do that for you.
CrossTread Truck Racks Available at Cap Connection
CrossTread truck racks are built with heavy-duty, steel tubing or aluminum. Although designed for work use, they can also be used for weekend fun.
Their steel racks are available in high-gloss powder coated finishes (black, white, or custom colors), while their aluminum racks have anodized finishes (black, white or custom colors).
Herculean Steel 750
Steel 1500
Service Body Truck Rack
Cross Guard
Moonlighter
Renegade
Steel Renegade XT
Aluminator Truck Rack
CrossTread Van Racks
CrossTread offers a variety of steel and aluminum van racks for carrying just about anything. Standard colors are black or white (powder coated for steel, anodized for aluminum), but they can be ordered in custom colors, as well.
Steel Gutter Mount Rack
Aluminum Gutter Mount Rack
Roof Mount Rack
Flat Top 850
Steel Angle Rack
Aluminum Angle Rack
Call Cap Connection at 262-524-8420 for prices on Crosstread Truck Racks for your truck or Stop by in Waukesha - minutes from I94, west on Hwy 18.