Bed Liners
Bed Liners Protect Your Truck from Damage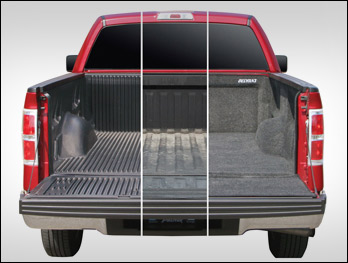 Snow, rain, hail and sleet: Penda, Bedrug & Rugged Liner bed liners for trucks keep your bed preserved through all kinds of weather. Picking up mulch? Dropping off timber? Collecting toolboxes from all your friends? You need a liner capable of keeping up with the life you're leading, not the other way around. Keep your bed protected through years of use and abuse by choosing one of the superior liners we have available:
Manufactured to resist moisture and constructed to take consecutive beatings from all kinds of materials, Penda Bed Liners are an affordable opportunity for you to provide premium protection for your truck without compromising on convenience or design.
The perfect option for the truck driver who wants a softer approach to their truck's exterior, Bedrug Liners look and feel like carpet, but have the strength of their durable counterparts. With water and slip resistance, you can count on this bed liner to keep your materials from shifting during long drives.
American-made truck bed liners provide affordable protection for all trucks. Made from high quality polyethylene, these liners non-pooling skid resistant floors & tough, patented front corners. The uniform wall thickness maintains durability and sleek appearance. Rugged Liner truck bed liners can be used with Rugged Cover hard or soft folding cover to keep your cargo dry.