Encore Tonno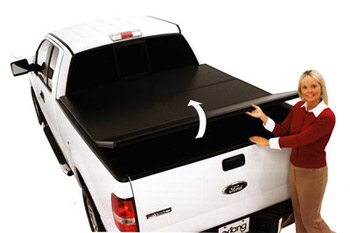 Extang's all new folding hard lid tonneau cover. Installs in seconds!! No tools required.
Fastest installation and removal of any hard tonneau on the market. Tonneau is completely assembled, no spare parts or tools required.
Ultra strong, yet lightweight!
Extang engineered design, made from aircraft grade aluminum alloy.
Great looking, black textured (poly-tex) paint finish. Provides ultimate protection against harmful UV rays.
Easy to use clamping system. Extremely strong glass-filled nylon construction. Clamps conveniently nest within rails when not in use.
WeatherTuff Seals and unique hinge design keeps water out.
The Solid Fold provides easy and convenient use, great style and cargo security!
Improves gas mileage up to 10%, Waukesha's Cap Connection can install but made easy for one person to install with no tools required!
Encore Tonno is Simply Superior
The Extang Encore folding truck cover offers immediate results by installing quickly and easily without the need for tools or a helper. Simply tighten the threaded hand clamps and you'll be hauling in minutes. This locking hard truck tonneau folds open from both the rear tailgate and the cab. The Extang Encore folding tonneau allows access to your front loaded supplies with a built-in locking mechanism, while the rear is opened using a simple latch just inside the tailgate. The latch is operated using just one hand, and closes itself automatically! The hard truck cap and hinges are constructed of fiberglass reinforced plastic and a powder coated aluminum frame, allowing heavy duty hauling for years to come. As America's top hard tonneau manufacturer, Extang offers the best lifetime warranty in the industry.
Versatile

User-Friendly

Secure

ExtangTuff

Weather Safe

Strong Hinges

Call TODAY 262.524.8420 for prices on Extang Folding Hard Lid Tonneau for your truck or Stop by in Waukesha - minutes from I94, west on Hwy 18!