Truck Bed Slides and Drawer Systems in Southeast Wisconsin
Wisconsin's Truck Experts Sell the Best Bed Slides on the Market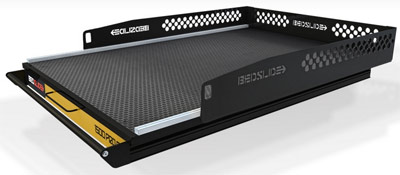 Cap Connection currently offers Bedslide brand truck bed drawer systems at our Waukesha location. Each Bedslide is fully assembled and can be installed easily. There is also a 5-year manufacturer warranty.
These bed slides come in a variety of styles to suit your hauling needs.
Bedslide 1000 Classic
The Bedslide 1000 Classic is perfect for light-duty recreation; it can handle up to 1,000lbs of cargo. These bed slides fit most Chevy/GMC pickups, Ford F-series, Toyota Tacoma, T-100, and Tundra, Dodge Ram and Dakota, and, Nissan Titan and Frontier.
Bedslide 1500 Pro
The Bedslide 1500 Pro has a 1500lb carrying capacity, making it great for hauling most heavy-duty equipment. These bed slides make it easy to access your tools without denting or scratching your truck bed.
Bedslide 2000 Pro
The Bedslide 2000 Pro handles heavy-duty equipment up to 2000lbs. This bed slide is built to prevent tools and other equipment from sliding around and can be easily secured for maximum safety.
Contact Cap Connection or stop by to check out bed slides and drawer systems.