Bedrug Truck Bedliners
Bedrug Truck Bedliners Look and Feel Like Carpet!
Don't be fooled by its comfort and softness, the Bedrug bed liner is ultra-tough. Bedrug bed liners are constructed of durable polypropylene resin, allowing dirt, gravel, firewood, and concrete blocks to be hauled easily without damaging your truck bed.
Bedrug bed liners prevent rust by eliminating scratches and dents that leave metal vulnerable to damaging moisture. The slide-resistant surface minimizes cargo movement during hauling.
Drop-in plastic bed liners mean drilling holes in the truck bed, spray-in truck bed liners are permanent and require scuffing the bed surface, while Bedrug closed-cell foam fits perfectly in your truck bed with no damage. It's durable, looks great and can be removed anytime.
Request a Truck Cap Visit the Shop
Bedrug Bedliners Will NOT Absorb Water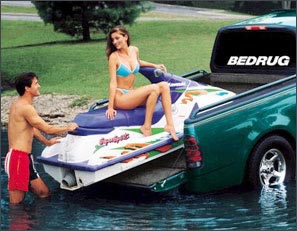 Bedrug truck bed liner looks and feels like carpeting, while the innovative foam technology prevents the absorption of rain and moisture. Rain simply runs off or dries in the sun.
The stain-resistant Bedrug truck bed liner from Waukesha's Cap Connection cleans easily with a shop vacuum or hose, maintaining its great looks while keeping your truck bed's paint in good-as-new condition.
Custom Fit and Custom Features
Unlike Any Other Truck Bed Liner.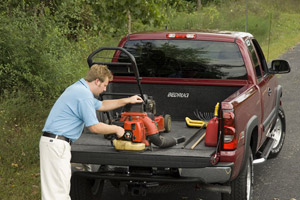 Bedrug truck bed liners are held in place by non-abrasive, moisture- and mold-resistant foam, custom engineered to fit the contours of specific truck beds. The flat, cushioned design supports cargo and provides a knee-friendly workspace.
Installing a Bedrug bed liner is incredibly easy, just zip together the side and bottom pieces, attaching the liner to the truck using simple hook-and-loop fasteners. The Bedrug bed liner allows easy access to existing tie-downs, and a built in hinge seamlessly connects tailgate cover to floor.
Thinking about a spray-in bed liner? DON'T DO IT! Spray-in liners require scuffing and paint removal, while the Bedrug bed liner keeps your truck bed's paint intact in case you ever want to remove the liner.
30 Day Money Back Guarantee on Bedrug Truck Liners

BedTred Pro Series Truck Bed Liner Zips Together for Perfect Fit!
Here in Milwaukee, truck bed liners take a lot of abuse from the elements. With heavy use and constant exposure to harsh conditions, most spray-in bed liners start showing significant wear and tear within a couple of years. If you're looking for a truck bed liner that looks as good as traditional spray-in liners, but won't permanently alter your truck bed or lower the resale value of your truck because it's falling apart, Cap Connection has the answer. Meet the BedTred truck bed liner, a brilliantly designed, made in the USA product from BedRug.
The BedTred is a non-permanent truck bed liner durable enough to withstand the knocks of daily use as well as extreme weather. If you've ever had your toolboxes or fragile cargo slide around in the back of your truck while you're driving, you know how worrisome it can be. Worry no more—the heavy-duty, anti-skid surface of the BedTred ensures your cargo stays in place. Constructed of a TPO composite material bonded to a layer of shock absorbing closed-cell foam, the BedTred protects your truck bed from impacts while also keeping objects from sliding around and scratching or denting the truck bed. And BedRug backs the BedTred with a limited lifetime warranty.
Easy To Install, Fits Great
Installation of the BedTred is simple. The 5 pieces zip together easily and then attach to your truck bed with adhesive-backed hook and loop fasteners, so there is no need to modify your truck bed in any way. Other than wiping down the metal with isopropyl alcohol before attaching the adhesive strip, no preparation of the metal surfaces of your truck bed is necessary.
The BedTred is designed for a snug, while leaving access to all factory tie-downs in the bed of your truck. Not only will your truck bed look great, but BedTred liners are built to last. Added benefit: The foam layer provides a knee-friendly surface when you're loading or unloading. If you are not already sold on this TPO composite surface truck bed liner, consider this: A BedTred non-permanent liner cannot damage your truck. Its non-woven fiber backing assures your truck bed will not be scratched during installation or in daily use.
Built To Last and Still Look Good!
Unlike traditional spray-in liners, the BedTred is made with UV-resistant materials to resist fading and chalking when exposed to the elements. The BedTred is also mold and mildew resistant, and the closed-cell foam does not absorb water. It is designed to let water run off the liner surface, through the zippered perimeter, and then through the factory drain holes in your truck bed. Clean up of the BedTred is easy, just spray it off with a hose or use a vacuum cleaner.
You may be thinking this all sounds great, but it's probably just for light duty use. You'd be thinking wrong. The BedTred Pro Series liner can handle gravel loads, heavy building materials, even the occasional toxic spill. Just hose it down and let it air dry.
Ah, but what if you decide to put a truck cap or tonneau on your truck? No worries. The under-rail mount design of the BedTred Pro Series keeps it free of the clamping systems most caps, lids and tonneaus have. Ingenious!
Around Milwaukee, truck bed liners are extremely popular. We have a lot of very satisfied customers rocking the BedTred in their trucks. Order your BedTred liner from our truck accessories store in Waukesha today.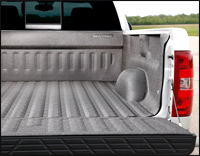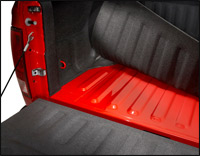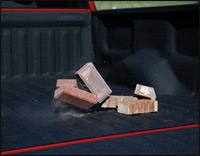 BedRug Pro Series features
TPO composite surface material
No Sanding, no drilling, no damage inflicted during installation
Hassle-free Hook and Loop strips make it easy to install and remove
Custom fit for your truck
Heavy-duty ¼" textured anti-skid surface
Thick foam layer resists dents and dings
Cushioned, knee-friendly surface
Non-woven fiber backing won't scratch truck bed
Call Cap Connection at 262-524-8420 for a price quote on the BedTred truck bed liner , or stop by in Waukesha – just minutes from I94 on E. Moreland Blvd.