Wisconsin Truck Cap Dealer & Installer
The Best Quality Truck Covers, Custom Fit to Your Vehicle
Cap Connection sells and installs truck covers and caps to give Wisconsin truck owners practical protection and the best value in truck accessories.
Our truck cap product line features include:
Modular design for easy on-and-off
Perfect integration with the color, style and profile of your tuck
Durable aluminum and fiberglass options
Structurally reinforced commercial-grade caps
Our affordable truck caps protect your truck bed and cargo against the elements while deterring theft. Many of our truck covers are so sleek and aerodynamic they give trucks the appearance of an SUV.
Get a Truck Cap Visit the Shop
LEER Truck Caps & Toppers
Leer truck caps and covers are American, through and through. Designed and manufactured in the USA, Leer's products are tough and precisely engineered to handle every mile and every challenge you can dream up.
Cap Connection sells and installs these Leer camper shells:
LEER Cab-High Caps
100XR
100XL
100XQ
100XQ Sport
200XQ Sport
100R
Expand your horizons and your truck bed with a LEER cab-high cap. Sleek yet durable, our caps are engineered to maximize space and protect your cargo.
LEER Mid/High-Rise Caps
180
180XR
180XL
122
LEER mid/high-rise caps are with you for the long haul and large haul. Utilize 15% more space than a cab-high model and save on fuel with stunning aerodynamics.
LEER Commercial Caps
180CC
DCC
100RCC
DCC-MT3
Built for years of labor, LEER commercial caps are the perfect partner for your truck. Get the job done with extensive storage options, security features, and more.
ATC Truck Caps, Toppers & Lids
ATC truck covers are known for low prices, reliability and quality workmanship. ATC American-made truck caps are available in a variety of styles, many with standard LED and dome lights.
ATC truck covers available at Cap Connection:
ATC Caps
LEX
LER
LES
LTD
LED
EXP
ATC truck caps have a custom fit fiberglass rear door skirt to match the tailgate and can be ordered with optional features like roof racks, sliding windows and HD upgrades. All ATC caps are backed by a limited lifetime warranty on paint and structure. Contact Waukesha's premier ATC dealer for pricing or special orders.
Century Fiberglass Truck Caps
Century truck caps have been made in the USA since the late 1960s and are well-known for their quality materials and worksmanship. Choose from cab-high, mid-rise and high-rise styles suitable for a range of applications and budgets.
Cap Connection sells and installs these Century truck caps:
Century Fiberglass Caps
T-Class
Royal
Ultra
Ultra Sport
High C
High C Sport
Century Fiberglass truck covers come with a limited warranty and an impressive array of standard and optional features. For the best prices on Century truck caps and professional installation, count on Cap Connection in Waukesha.
Century Commercial Truck Caps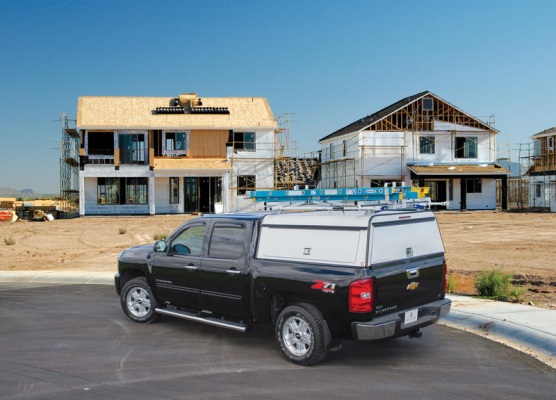 Commercial-grade truck caps from Century are structurally reinforced for commercial use and have many standard features and options to support hardworking trucks, including:
Interior & exterior rack and storage configurations
3-point locking system
Powder coated metal toolbox, shelf or divider
Single or double clamping ladder racks
Heavy-duty bedliner
Cap Connection is the top truck cap dealer in the Milwaukee area, with a full line of Century commercial-grade caps and factory-trained installers.
Get a Truck Cap All Truck Accessories
Not sure what the size of your truckbed is? Check out this table of popular truck models:
| | | | | |
| --- | --- | --- | --- | --- |
| Make | Model | Bed Size | Length | Width |
| Ford | F-150 | 5.5' Styleside Bed | 67.1" | 50.6" |
| Ford | F-150 | 6.5' Styleside Bed | 78.9" | 50.6" |
| Ford | F-150 | 8' Styleside Bed | 97.6" | 50.6" |
| Toyota | Tacoma | Short Bed | 60.5" | 41.5" |
| Toyota | Tacoma | Long Bed | 73.7" | 41.5" |
| Toyota | Tundra | Short Bed | 66.7" | 66.4" |
| Toyota | Tundra | Long Bed | 78.7" | 66.4" |
| Ram | 1500/2500/3500 | Short Bed | 67.4" | 66.4" |
| Ram | 1500/2500/3500 | Long Bed | 76.3" | 66.4" |
| Chevy | Silverado | Short Bed | 69.9" | 71.4" |
| Chevy | Silverado | Standard Bed | 79.4" | 71.4" |
| Chevy | Silverado | Long Bed | 98.2" | 71.4" |
| Chevy | Colorado | Short Box | 69.9" | 57.8" |
| Chevy | Colorado | Standard Box | 79.4" | 57.8" |
| Chevy | Colorado | Long Box | 98.1" | 57.8" |
| GMC | Sierra | Short Box | 69.9" | 50.6" |
| GMC | Sierra | Standard Box | 79.4" | 50.6" |
| GMC | Sierra | Long Box | 98.2" | 50.6" |