Pendaliner™ for Truck Beds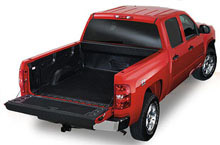 Pendaliner™ truck bed liners from The Cap Connection in Waukesha protect the paint on your pickup truck bed for YEARS, defending against scratches and dents without trapping moisture like spray-in bedliners. The custom-fit bed liner provides maximum skid resistance, keeping your cargo safely in place. The included tailgate liner is made of an alternative material to reduce friction for easy loading. The Pendaliner includes notched 2x4 slots for tiered loading and nifty tailgate cup holders for an enhanced game-day experience. Choose between over-rail mounting for additional protection or under rail mounting to accommodate truck caps and tonneau covers.
Heavy-duty Pendaliners are engineered for abuse; skid resistance improves over time.
Pickup truck model-specific molding ensures a perfect contour-fit, maximizing cargo space and accommodating aftermarket accessories.
Drop-in Penda bedliners are less expensive and more effective than paint-damaging spray in liners.
Included tailgate piece allows cargo to slide easily into truck bed.
Easy no-drill installation design available for all Penda bed liner models.
Get a Bed Liner Visit the Shop
Ground-breaking ultra skid-resistant material provides increased friction to minimize sliding.
Glossy exterior surface ensures a shiny appearance even after years of wear.
Lasting skid-resistance grows stronger with use.
Grooved Pendaliner™ design improves airflow, removing trapped moisture and preventing rust.
Stylish headwall and precision fit siding accommodates full length toolboxes.
Innovative 2x4 slots support multi-tiered loading.
Custom fit Penda bed liner protects truck bed rails while allowing access to tie downs with removable tie-down caps.
EXCLUSIVE built-in tailgate cup holders secure your beverage at Milwaukee Brewers and Green Bay Packers tailgating and gameday grill outs!