Undercover Folding Lids
Undercover™ THE Standard in Hard Tonneau Covers Available in Waukesha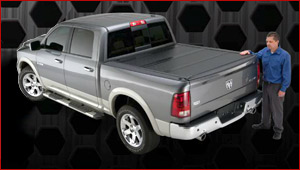 The Undercover™ Flex Folding Cover is a brand new innovative design which combines the lockable security of a hard tonneau with the quick accessibility of a soft cover tonneau. This revolutionary new truck bed cover features a low profile design which is easily folded open for maximum space. Plastic buckles and straps work to secure the panel in partially open positions, allowing a varying degree of open space without compromising overall cargo security. Ultra-strong prop rods allow for non-obstructive or damaging storage at the head of the truck bed when fully opened.
The fiberglass construction is resistant to harsh weather, scratches and dents, ensuring your load is protected at all times. No tools or drilling is necessary when installing the Undercover Flex Folding Cover, allowing easy installation and removal without damaging your truck in anyway. The professional truck cap installers at Cap Connection in Waukesha can install this for you so you know you will have the best performance and ease of use possible. For the combined protection of a hardcover and the easy convenience of a softcover, try the Undercover Flex Cover.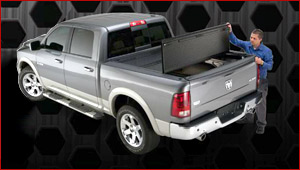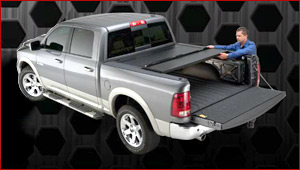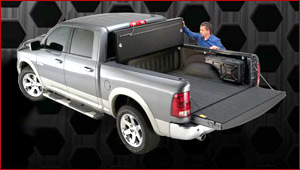 CALL 262-524-8420 for Pricing and Availability in Waukesha of the Undercover Flex Cover for your truck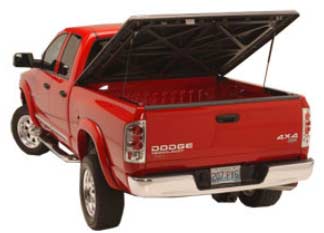 Undercover™ Hard Tonneau Cover
The Undercover™ hard tonneau truck cover is the ideal lift-top tonneau cover. Lightweight, durable, and watertight, the Undercover™ hard tonneau truck cover has rapidly become a favorite among truck owners everywhere. No drilling is required to install this tonneau truck cover. It's simple, easy installation method is as straightforward as clamps, adding to the truck cover's simplistic appeal. Its black finish will match the truck's trim, giving it a consistent look as if straight from the factory. This black finish is also designed to resist scuffing, standing the test of time compared to other tonneau truck covers like fiberglass tonneaus.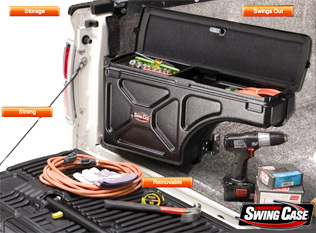 Undercover™ Swing Case Toolboxes
The Undercover™ Swing Case Toolboxes gives your truck a built-in tool box to transport up to 75 pounds of tools and supplies without worrying about a toolbox sliding around the back of the truck. This Swing Cases are fully removable, allowing you to take your tools with you whenever you need. Easy to detach and reattach, it's the only toolbox you'll ever need. Strong and durable, your Swing Case Toolbox offers 1.5 cubic feet of storage each. True to its name, the Swing Case swings out over the tailgate, allowing you easy access to your supplies without having to remove it.
The Undercover™ Lux SE -- Undercover's Best Tonneau
In Milwaukee, truck bed tonneaus are almost a necessity come winter. We've been very impressed with the Lux SE hard tonneau from Undercover, as have our customers who purchased them.
These stylish, impact-resistant ABS covers have a 3-year warranty against defects in material and workmanship, while the hardware and quick connect struts are covered by a one-year warranty. The paint work on these tonneaus is stunningly good, and word is that Undercover built a state-of-the-art paint shop just for painting these tonneaus.
If you're in the market for a low profile, weather-tight cover, the UnderCover LUX SE should definitely be on your short list.
Let's take a look at what makes this tonneau such a great choice: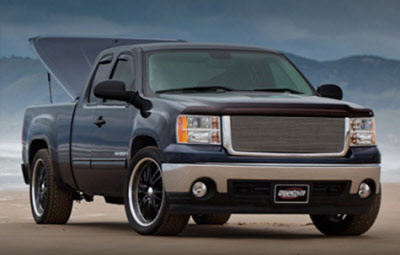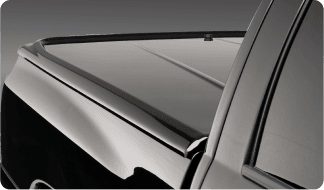 Great Looks
The Lux SE has a sleek, low profile design with smooth corners and contoured edges. Three modestly styled ribs and a subtle spoiler give it a aerodynamic look.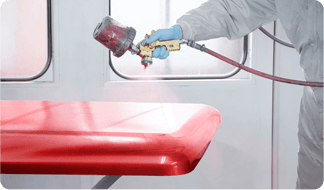 Any Color You Want
When you order a Lux tonneau, it will be perfectly color matched to your vehicle. Undercover's state-of-the-art paint shop provides the highest quality finishes in the industry.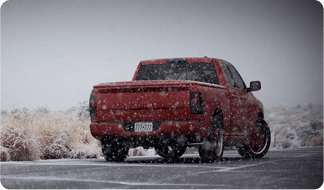 Weather-tight fit
A full perimeter seal and a perfect fit for virtually any truck bed ensures rain, sleet and snow stay outside.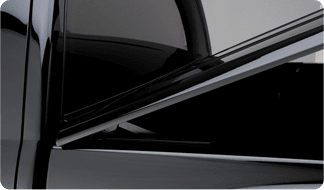 Better Fitting, Easier Removal
Undercover designed a stealthy new quick disconnect strut that not only allows for a tighter fit to your truck bed, but also makes for fast, no tools necessary removal. How fast? About 4 minutes. With a weight of about 58 pounds, it can easily be removed by two people.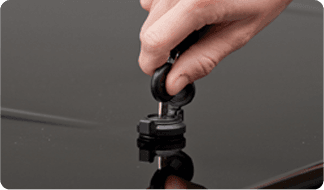 Secure
Weatherproof twist-lock keeps your valuables secure, while also allowing the option of opening without a key.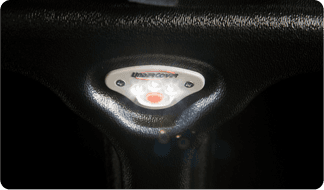 Built-in Lighting
A built-in 3-bulb LED light makes it easier to find your gear when it's dark out. Runs on its own easily accessible battery, so there's nothing to wire up.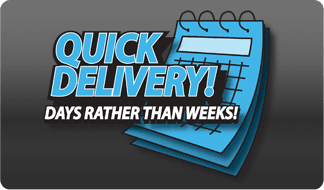 Quick delivery
The Lux SE can be ordered, delivered and installed within days—far faster than the weeks it typically takes to get a hard tonneau from the competition.