Better Built Toolboxes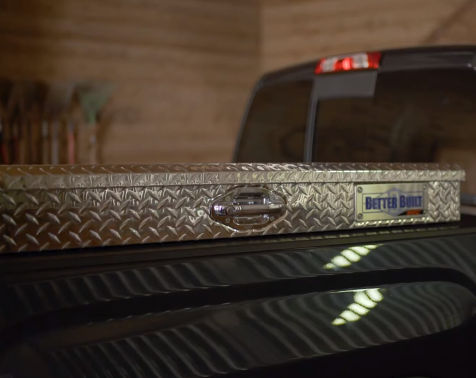 Better Built Toolboxes didn't get their name just because it sounded cool; they earned it. Better Built, a family owned company, has been dedicated to manufacturing the highest quality tool boxes for over two decades.
Manufacturing everything from crossover tool boxes to dog boxes, Better Built offers truck owners a choice in secure storage. All better built boxes are made from high strength aluminum and are designed to offer maximum durability.
Choose from a number of styles and classifications to find the perfect toolbox for your truck. Whether you need a wheel well box or an overhead box, Better Built Toolboxes are simply the best.
Crown Series Boxes
Known as the "Original Aluminum Truck Tool Box," Crown Series truck toolboxes are simple, durable and dependable. Featuring stainless steel locks and made from high gauge aluminum, Crown Series products are built to last.
Also available from the Crown Series are a selection of two lid tool boxes, wheel well boxes, side mount boxes, ladder racks, and more.
Special Addition Crown (SEC) Series Truck Tool Boxes
The first toolbox line to include patented features that are premium and still affordable, the SEC Series is designed for performance enthusiasts. Featuring an end opening push button for maximum security and convenience, SEC Series boxes truly are Better Built.
Choose from a selection of standard sized toolboxes, chest boxes, crossover toolboxes and more.
Heavy Duty (HD) Series Tool Boxes
Hardworking pros who need a pickup truck toolbox every day rely on the HD Series from Better Built Toolboxes. HD series boxes are the best built toolboxes. Featuring exclusive features as standard, HD Series boxes go above and beyond the competition. With a Climate Lock Seal and 4-stage automotive grade rotary billet push button latches, HD Series boxes offer security and dependability.
Choose from HD Series transfer tanks, side mount boxes, crossover toolboxes and more.