Century High-Quality Caps
Commercial-Grade Truck Caps Available in Waukesha
Century commercial-grade truck caps from Milwaukee's Cap Connection offer a sleek look and practical features. Century aluminum caps from Cap Connection come with an all-welded frame, full roof cage and two extra bows. The bows are sized at .030 smooth metal (.040 optional) with .080 base rail (the thickest in the industry). Cap Connection's commercial-grade aluminum Milwaukee Century truck caps are made with tube and flange construction, plus additional bracing in the corners for superior strength.
Century Truck caps from Milwaukee's Cap Connection are available in standard 23" height or an optional 29" for additional cargo space. Other standards include a black folding "T" handle with 3-point locking system and a black cargo "L" handle in the rear door. All rear doors feature gas props for better control. All Milwaukee truck caps from Cap Connection are available in black or white standard, or custom painted to match.
We install ordered commercial truck caps right here in Waukesha!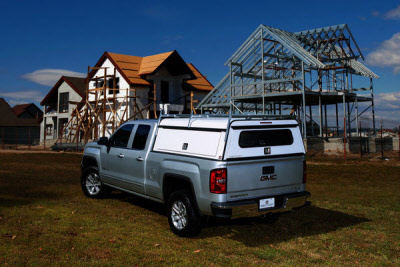 Century DCU
At the top of the Century line, the aluminum DCU (Deluxe Commercial Unit) was designed and built to handle the toughest work environments. The DCU line offers 10 different door options, 8 different window configurations, plus a staggering variety of storage options, rack choices and even different heights. You can also outfit it with optional equipment for just about any work use, including tool boxes. Need to carry ladders on the sides of the truck? Prefer ladders on top? No problem. With rack options from Thule, CapRac, Prime Design and Kargo Master, Century has it covered.
Standard Features
.035 Exterior Smooth Skin Aluminum Roof Metal
Full Length Side Doors with Gas Props
Stainless Steel Drop-T Handles and BOLT Locks with "One Key Technology"
DCU Fuse Box
Interior Wire Loomed and Secured
Solid ½ Rear Lift Door with Gas Props and Contoured Door Skirt
Exterior Mounted LED Third Brake Light
Heavy-Duty Aluminum Base Rails
TIG Welded "Super Cage" Integrated Roof Construction
Solid Front Wall
Black Trim
5 Year Structural Warranty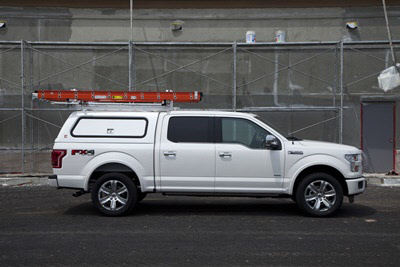 Century Ultra CF
Built with structurally reinforced fiberglass, the Century Ultra CF (Commercial Fiberglass) has a sleek, cab-high design that doesn't scream "work truck!" It's tough enough to mount racks for ladders and other work site gear, and you can customize the look with optional 70/30 radius sliding side window with screen, a radius side Windoor (solid sides is standard). You can even order this cap with a Kargo Master, Thule, CapRac or Prime Design rack pre-installed. Or, you can let the Cap Connection customize it with a rack installation. Want to add some trick interior lighting or bed liner? Century has plenty of options for you to consider. Check with the truck cap pros at Cap Connection for details and the best pricing in Milwaukee.
Standard Features
DuPont/Axalta Automotive Paint
CENTURY Fiberglass Construction
Interior Headliner
Commercial Cap Structural Reinforcement
Interior LED 20" Light Bar
12V Fuse Box
Interior Wire Loomed and Secured
Fiberglass Base Rails
Recessed Third Brake Light
Roped-in Fixed Front Window - Standard
Dupont-Axalta Automotive PaintSolid Sides (No doors or windows)
Limited 5 Year Color and Structure Warranty
Recessed Dark Tint Rear Door with Double T-Handles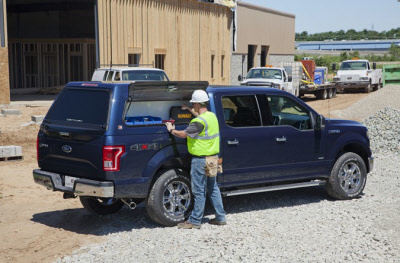 Century High-C CF
The High-C CF is a mid-rise cap built with reinforced fiberglass to support commercial roof racks and the rigors of life on a work truck. The extra height is great for those slightly oversized items you have to haul around from time to time, and the variety of front and side window and rear door options lets you get a top that's just right for your use.
Century offers a tool box option, storage solutions (parts bins and shelf bins), interior lighting and several ladder rack options (Prime Design, Kargo Master, Thule and CapRac). You can also order yours with a Bedslide organizer, a Bedrug liner or a Decked Organizer. The High-C CF Series fiberglass truck caps are available for GMC/Chevy, Ford, Dodge and Toyota trucks.
Contact the truck cap pros at the Cap Connection for all the details and ask for our best price on a Century High-C cap.
Standard Features
DuPont/Axalta Automotive Paint
CENTURY Fiberglass Construction
Interior Headliner
Commercial Cap Structural Reinforcement
Interior LED 20" Light Bar
12V Fuse Box
Interior Wire Loomed and Secured
Fiberglass Base Rails
Recessed Third Brake Light
Roped-in Fixed Front Window - Standard
Dupont-Axalta Automotive PaintSolid Sides (No doors or windows)
Limited 5 Year Color and Structure Warranty
Recessed Dark Tint Rear Door with Double T-Handles
Call the Waukesha Truck Cap Experts at 262.524.8420 or stop by in Waukesha For Century Truck Cap Pricing and Installation in Wisconsin