Bedslide Truck Beds
The bedslide is what every pickup bed needs. It comes fully assembled, installs easily and quickly, it's rugged, very affordable, and includes a 5 year warranty!
BedSlide 1000 Classic -- Perfect For Weekend Warriors And Tradesmen On A Budget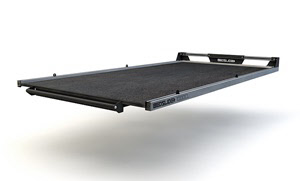 The most affordable priced Bedslide, the 1000 Classic is perfect for lighter duty recreational uses. Planning a big trip and hate having to climb over all the things you've loaded in the back of your truck just to find that one bag with the sunscreen inside? Bedslide's ¾ extension makes it easy to access your gear.
For everyone who's ever wished for a more affordably priced BedSlide, the Bedslide 1000 Classic is your ticket to slide. They're available for Chevrolet/GMC pickups, Dodge Dakota and Ram, Ford's F-series, Nissan Frontier and Titan, and Toyota Tacoma, Tundra and T-100.The biggest difference between the 1000 and the other Bedslide models is the weight capacity and the lack of side guard rails. As the name suggests, 1000 Classic has a payload capacity of 1,000 lbs (evenly distributed). And, as you've no doubt noticed, it doesn't have the side guard rails the other models have. It does have a headrail, though, and multiple D-ring cargo tie downs. It also has the same heavy-duty cam-follower bearings and hard latch system of the heavier-duty models. So if you can keep your cargo under 1,000 lbs., the 1000 Classic is definitely worth a look.
Because some bed liner products may alter the way Bedslide products fit, we recommend letting us take measurements for you if there's a bedliner in your truck. We also offer professional installation at a reasonable price. Let us know if you're interested and we'll work out a quote for you to include installation.
1500 Pro CG Bedslide Delivers Safety and Convenience at Affordable Prices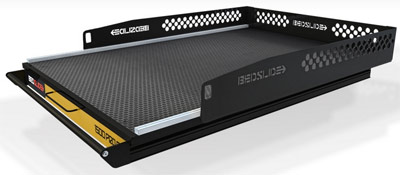 The BEDSLIDE 1500 is ideal for tough work and play.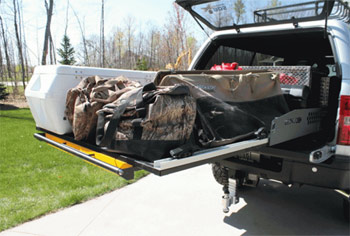 With a 1500 lb. capacity and integrated side track system, this truck bed slide is built for heavy duty cargo transportation. This high quality truck accessory comes equipped with a full width grab bar and 8" perimeter side rails for easy and convenient access from all sides. The 4 adjustable heavy duty tie-down cleats and rubberized skid proof deck eliminate any chance sliding or movement, protecting your truck bed and cargo from denting or scratches. The stylishly designed truck bed slide is made with laser cut steel and a dual pin latch for easy gliding and to prevent potential binding. Safety is extremely important when working with heavy duty materials and equipment, which is why this truck bed slide is made with multiple locking positions. The BEDSLIDE 1500 is made with the strongest and highest quality materials to reduce safety threats and cargo damage. With easy installation and removal, this BED SLIDE is a convenient option for those looking for a stylish and safe cargo truck accessory at an affordable price. Stop by The Cap Connection's Waukesha truck accessories store and pick up a quality bed slide today.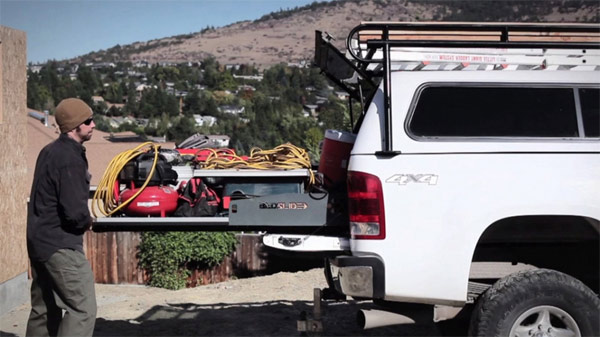 2000 Pro HD Truck Bedslide Provides Convenience and Style at Cost-Efficient Prices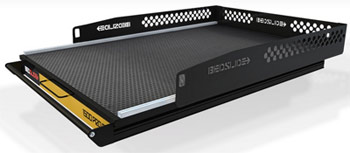 The BEDSLIDE 2000 is the perfect truck accessory for those performing heavy duty carpentry, building contracting, or recreational activities. The BEDSLIDE 2000 is designed for easy installation and removal.You're able to easily customize your truck bed for the work you do. With a hold capacity of 2000 lbs. and 4 adjustable heavy duty tie-down cleats, this truck bed slider is made for tough work and cargo transportation. The stylish design includes a full width grab bar and 8" perimeter side rails for easy access from all sides. With multiple locking positions and a dual pin latch to eliminate binding, this truck bed slide is designed for maximum safety. The rubberized skid-proof deck protects your cargo and your truck from damage caused by sliding and movement during transportation. Constructed with the highest quality materials and laser cut steel, this truck bed slide provides precise easy glide action for years of heavy duty use. For convenience, safety, and style at a price you can afford, visit The Cap Connection's Waukesha truck accessory store and get the BEDSLIDE 2000 today.