K&N Air Filters
The last word in air filters isn't actually a word, it's two letters: K&N. Ask anyone who's replaced their stock air filter and they'll tell you. It's the best air filter on the market.
Why the cult following for K&N? Better performance! They're designed to increase horsepower and acceleration by providing up to 50% more air flow, which results in brisker throttle response and more torque. While K&N declines to comment on whether their air filters help increase gas mileage, there are plenty of user reviews online raving about an increase in mpg after installing a K&N filter.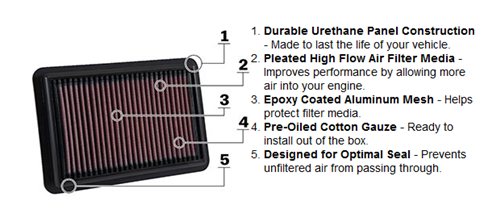 Reusable and Lasts Up to 50,000 Miles Between Servicing
K&N makes an easy-to-use air filter cleaning kit you can use to clean and re-oil your filter. Clean it every 50,000 miles and you will likely never need another air filter.
Yes, K&N filters cost more than the paper air filter that came on your vehicle, but the money you save by not having to replace paper air filters will more than make up for your initial purchase price.
But wait...there's more.
K&N is so confident in their filters, they're guaranteed to perform for up to 10 years or 1 million miles without needing replacement. That's not a typo—K&N actually guarantees them for 1 million miles.
Easy Installation, Fits Virtually Every Vehicle
You've installed an air filter before, right? Nothing to it. K&N filters are no different. They're available for virtually every car and truck on the road today, and they drop right into your air filter box. It's a 5-minute job, tops.
What are you waiting for?
6 Solid Reasons to Switch to a K&N Air Filter
Increased Horsepower & torque
Easy Installation
Lifetime Reusable
Million Mile Limited Warranty®
Lasts up to 50,000 Miles Between Servicing
Thousands of great reviews
K&N Universal Air Filters for High-Performance Racing Vehicles

K&N's Universal Air Filters are designed and manufactured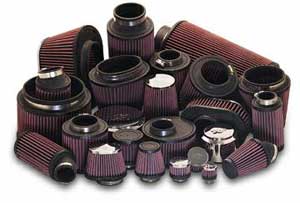 for a wide variety of applications. Regardless of the angle, offset diameter of the air intake, there is a K&N Universal air filter for your equipment.
NOTE: K&N Universal air filters are legal ONLY for racing vehicles. Not applicable, nor intended for use on emission controlled street or highway vehicles.
Designed to Increase Horsepower & Acceleration
Simple Clamp-On Design
Hundreds of Shapes & Sizes for Most Applications
High Flow Air Filter with Excellent Filtration
Washable & Reusable Air Filter Media
Malleable Flanges
Comes with a One Year Limited Warranty


K&N Crankcase and Injector filters to fit your vehicle are available at the Cap Connection along with many other performance enhancing products.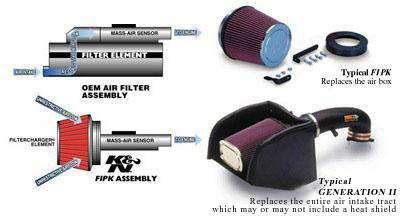 The World's Best Flowing, Best Filtering, High Performance "Street-Legal" Air Filtration Systems - Better Acceleration - Increases Power (up to a 26 HP gain) - Filter is Washable and Reusable - Lasts up to 50,000 Miles Before Service is Required - Engineered to Specific Vehicle Design - Replaces OEM Filter and Air Box - CARB Exempt - Emission Legal in all 50 US States - 10 Year / Million Mile Limited Warranty - Works with Original Equipment Manufacturer Computer Systems