Truxedo Soft Tonneaus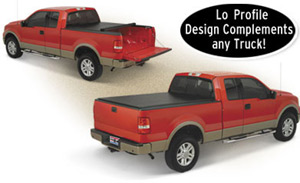 Truxedo Lo Pro
Sleek, low-profile design and heavy-duty construction make the Lo Pro the best-selling roll-up truck bed cover in North America. Truxedo's patented automatic tension control keeps this cover taut and in place in any weather. Because it mounts inside the rails of your truck bed, you retain access to stake pocket holes for other truck accessories. (The Lo Pro is also available as a custom order for classic trucks and trucks with toolboxes installed. See below.)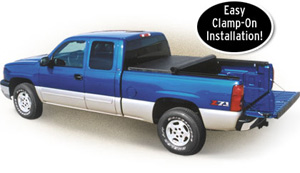 Truxedo Original
While half the world was freaking out over Y2K, a few dedicated truck enthusiasts were developing an innovative new truck bed cover. Launched in 2000, the Original Truxedo set a new standard for low profile, full access truck bed covers and established Truxedo as the choice for style, durability and functionality. One more thing to love about Truxedo covers – they're all made in the USA.


TruXedo® Custom Covers
Custom Covers for Classic and Custom Trucks or Trucks with Toolboxes
Have you got a vintage pickup in need of a truck cover? Truxedo can fit their Lo Pro cover to any size truck bed, even ones with abnormal sizes or tool boxes installed behind the cab. What's more, you have a choice of colors: black, buckskin, charcoal gray, light gray or navy blue. Get in touch with Cap Connection and we'll be happy to place an order for you.
Truxport
Looking for a truck bed cover that won't break the bank? Truxedo's got you covered. The Truxport is a great looking roll-up cover at a more affordable price. Easy to install, a cinch to open and close, and equipped with a pre-set tension control to keep it looking great all year round. Buy with confidence, it's backed by Truxedo's 5-year warranty.
Duece
The Deuce combines the full bed access of low-profile roll-up covers with the convenience of a quick access folding cover that opens by flipping a latch inside your cab. Installation is hassle-free, with no drilling or special tools needed. The Deuce sits just ¾" above your truck bed for a sleek look. Mounted inside your truck bed, it allows access to the stake pockets for any extra customization you may plan. A high-quality, tear resistant fabric with leather grain pattern protects your cargo from rain and snow.
Edge
If you're looking for the most aerodynamic cover, check out the Edge. A distinctive arched tailgate design gives it a rounded, aerodynamic look. No drilling, no tools required installation lets you get it mounted in less than 20 minutes, and the rugged, leather grain fabric looks great while warding off the elements. With an adjustable tension control, it will look great even when summer's humidity has other covers sagging.
Why We Love Truxedo Truck Bed Covers:
Installation is easy and quick - no need for drilling or special tools
Easy operation – a single trigger latch requires only one finger to open
Easy to remove – the entire cover can be removed quickly without any tools
Heavy-duty, high-grade fabrics – tear-resistant and element-resistant, your stuff is safe under a Truxedo
Made in the USA—Ingeniously designed and built, Truxedo covers are making trucks great again
Professional Installation Available
Truxedo designs their truck bed covers for easy installation, but we can put it on for you if you like. There's a labor fee for installation, but since this is a quick and easy job it won't be much. Let us know if you'd like us to install yours and we'll give you a quote.


Call Cap Connection TODAY 262.524.8420 for prices on Truxedo Tonneaus for your truck, or stop by in Waukesha - minutes from I94, west on Hwy 18.