Westin Running Boards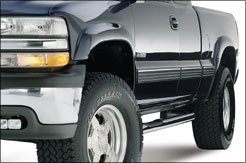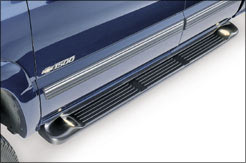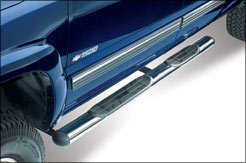 Sure-Grip Running Boards: Slick Looks. Virtually Slip-Proof Surface!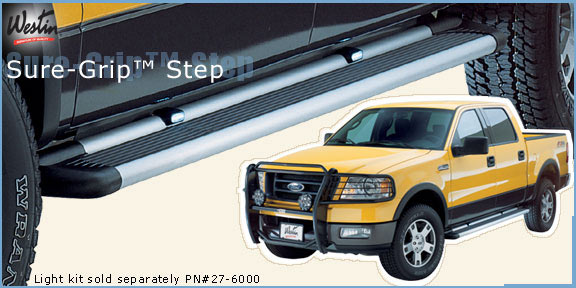 Westin's Sure-Grip Running Boards offer a combination of functionality and style.
Made from extruded aluminum for extra strength and covered with a grippy rubber step material that runs the full length of the board, the Sure-Grip lives up to its name. The straight step design adds molded end-caps for a clean look and is available in six universal lengths to fit virtually any truck or SUV—54", 69", 72", 79", 85" and 93".
Like all Westin running boards, the Sure-Grip requires a vehicle-specific Mounting Kit, which is sold separately. Westin believes the only way to ensure a perfect fit and easy installation is with a mounting kit specifically designed for each running board and the vehicle to which it will be attached.
If you want to really trick out your truck and add an extra measure of safety, consider the optional Sure-Grip Running Board Light Kit (PN#27-6000). When you open your doors, the step area is lit up so there's no chance of a misstep.
Material: Extruded aluminum
Sizes available: 54", 69", 72", 79", 85", 93"
Finish: Brushed aluminum, Brite aluminum, Black aluminum
Style with Substance: Westin Premier 6" Oval Tube Nerf Bars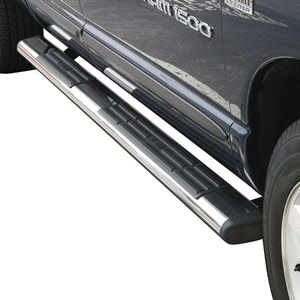 These great looking, OEM-style oval tube nerf bars from Westin are a real step up from budget bars.
A full 6" wide at their largest point, these Westin Premier Oval Tube Nerf bars give you a large 5" step area with dual UV stable rubber grip pads for secure footing.
Westin gives you the choice of either a polished stainless steel version or a black powder coated steel model. Both versions come in universal lengths to fit most full-sized trucks and SUVs (53", 75", 85", 91") and require a vehicle specific mounting kit (sold separately).
Westin designs these mounting kits to be vehicle specific in order to ensure a secure fit and easy installation. There is no drilling or special tools required to install these nerf bars, but you can have our crew install them if you prefer.
The Cap Connection can get you a great deal on these Westin Premier 6" running boards, as well as the mounting kit.
Polished Stainless Steel Model
Finish: Stainless
Material: Stainless Steel
Warranty: Lifetime
Black Powder Coated Steel Model
Finish: Black powder coat
Material: E-coated steel
Warranty: 3 years
What is E-coated steel?
Good question! You'll notice many of Westin's products are described as "E-coated steel." E-coating is shorthand for a process known as electrophoretic deposition. It was originally developed to apply an anti-corrosive primer coat on the steel bodies of automobiles.
E-coating is a cross between plating and painting. The metal is immersed in a water-based bath with paint or epoxy. An electric charge is applied to the part, which causes the particles in the liquid solution to adhere to the part. The coated part is then cured in an oven to harden the finish.
The result is a primer coat that provides exceptional resistance to corrosion.