Decked Storage System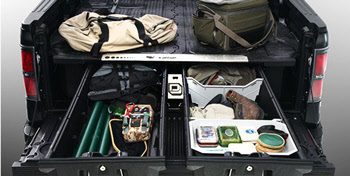 The good folks at Decked must be compulsive neatniks, because their in-bed drawer system is so beautifully designed even the chronically disorganized have a fighting chance!
The Decked system consists of two drawers with organizing shelves and dividers to keep tools separate from toys and anything else you need to carry. Each drawer can handle up to 200 lbs. of assorted gear, and it'll be kept safe from the elements and from sticky fingers (thanks to locks on the drawers).
If this sounds great, you'll be pleased to learn there's even more to love about this system. Because the drawers sit down inside your truck bed, there's still room on top of them to carry things. And with a 2,000 lb payload, you're free to load it up. Want to haul your ATV on top? Roll it on up there. (Well, as long as it's 2,000 lbs or less.)
Request a Storage System Visit the Shop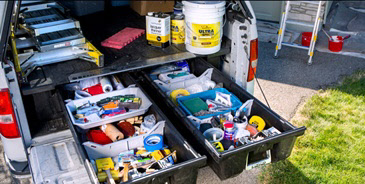 Here's something else to love about the Decked storage system: installation and removal is simple, requiring only a screwdriver, ratchet and wrench. Because it's connected to your bed tie downs, there's no need to drill holes in your truck's bed. And if you ever need to remove it from your truck bed, it only takes about 15 minutes.
And, yes, in case you're wondering, all Decked products are proudly made in the U.S.A.
Wouldn't it be nice to have the bed of your truck neatly organized so you can actually find things when you need them? Cap Connection can help turn that dream into reality.
Check with us today for our low price on the Decked drawer system, and for our professional installation.