Luverne Steps & Nerf Bars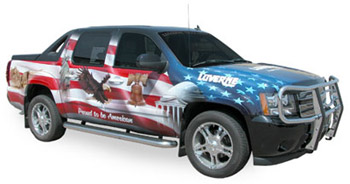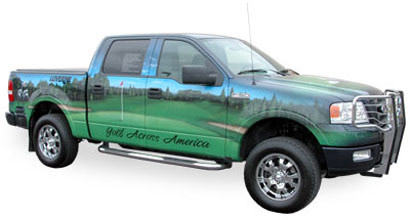 Luverne Stainless Steel Side Steps for easy entrance to your cab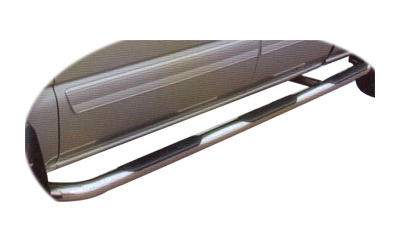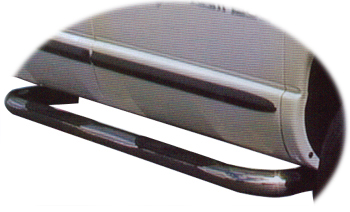 Luverne Nerf Bars look great and make getting in and out of your truck easier
Whether you call them nerf bars or tube steps, running boards or even "shiny metal things you step on," Luverne makes some of the best you can buy. These oval-shaped Nerf Bars feature stainless steel construction and a generous 4" wide stepping platform with long safety step pads.
Luverne builds high-quality, US made bars designed to fit Chevy Silverado/GMC Sierra, Ford F series, Dodge Ram series and Toyota Tundra trucks in either standard or wheel-to-wheel configurations. Each set of steps comes with factory installed brackets for easy, no-drill installation on most models. Just use the existing holes on the underside of your vehicle.
Luverne Grip Step Running Boards
With its finned, shoe-gripping aluminum construction, the Grip Step running board is the perfect running board for work trucks—especially if you venture into muddy jobsites. The innovative step design of this running board provides an extra measure of traction to keep you safe even with wet or muddy boots. Cleanup is easy, too. Just spray with a hose to clear any accumulated mud out of the running board.
Installation is straightforward with the vehicle-specific brackets mounting to existing holes on the underside of most trucks. The Grip Step can be ordered in a variety of lengths to match cab length or wheel-to-wheel distance. Just let us know the make, model and year of your truck and The Cap Connection will take care of ordering it for you.
And if you'd like to get it professionally installed, we can do that for you at a reasonable price.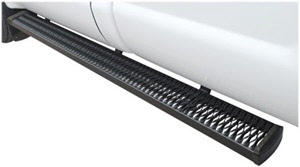 7 inch x 2½ Inch Step built of 5052-H32 Aluminum
Durable Black Powder Coat Finish
Innovative Step Design for Traction and Safety
Vehicle-Specific Brackets for Easy Installation
Brackets are Powder Coated, High-Strength Steel
Stainless Steel Fasteners and Textured Black Plastic End Caps Included
Choose from different lengths for either Cab Length or Wheel-to-Wheel Installations
Luverne 6" x 3" Stainless Steel Oval Running Boards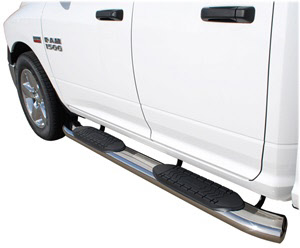 These oval-shaped running boards from Luverne have a beautifully polished, rust-resistant finish. You know its good stuff when Luverne backs the gleaming stainless steel finish on these running boards with a lifetime warranty.
Besides looking great, these running boards also help keep you and your passengers safe with two strategically placed non-skid plastic step pads. Installing these running boards is easy, with no drilling required on most trucks thanks to Luverne's high-strength steel cradle mount bracket. These brackets mount on factory placed holes on the underside of your truck.
Luverne offers these running boards in sizes to fit a wide range of Chevy Silverado/GMC Sierra, Ford F-150 and 250, and Dodge Ram Series trucks. For details on sizes available and prices, get in touch with the truck caps and accessories experts at The Cap Connection.
Contact The Cap Connection in Waukesha for more details on Luverne stainless steel running boards.
Luverne Regal 7 Oval Step Running Boards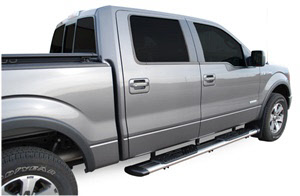 The largest oval step running board on the market, Luverne's Regal 7 combines great styling with a large step area and built-to-last construction. The angled non-skid step pads and end caps look great and tie in nicely with the black trim on your truck.
At a full 7" inches wide, this is one of the widest running board steps on the market. These boards mount securely to existing holes on the underside of your truck, so no drilling is necessary. Installation is pretty straightforward, but it you prefer The Cap Connection can install these for you quickly and at a very reasonable price.
Regal 7 Oval Running Board Features
• Polished stainless steel 7" oval step with contoured, black plastic end caps
• Angled non-skid polypropylene step pads & end caps
• Oversized step pads securely bolted into place
• Available in lengths to fit a wide range of cabs & wheel-to-wheel distances
• Vehicle-specific brackets and stainless steel fasteners make for easy, no-drill installation on most models (mounting brackets packaged separately)