Storage Systems Keep Your Truck Organized and Your Tools Handy
Buy Storage Systems for Your Truck in Southeastern Wisconsin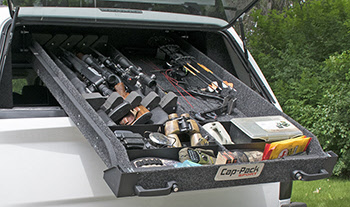 Truck storage systems are a great way to keep your truck bed organized without having boxes and tools sliding around in the truck bed. Cap Connection carries dependable storage systems from top manufacturers including:
Decked Storage Systems
The Decked drawer system is incredibly easy to install and is a great in-bed system for keeping organized. Each drawer holds up to 200lbs of tools and equipment, and slides back inside the bed, giving you optimal space for large items. The drawers also lock to keep your equipment safe.
Cap-Pack Storage
We carry the Cap-Pack Sport to keep your equipment organized and out of the way. This storage system is easily mounted to the roof of your truck cap, and offers easy access to all of your tools.
Get a Storage System Visit the Shop
Contact Cap Connection for product info or to check which storage systems are currently in stock.