Truck Toolboxes for Sale in Wisconsin
Best Tool Boxes for Trucks with Secure, Long-Lasting Storage
Toolboxes from Cap Connection are guaranteed to last years through your professional jobs and DIY projects. Throw your hammers, screwdrivers, wrenches and levels in one of our UWS, DeeZee, Undercover Swing Case, Geneva or Better Built truck toolboxes. These truck accessories are constructed from the most durable materials – order yours today!
Side Mount, Underbody & Rustproof Toolboxes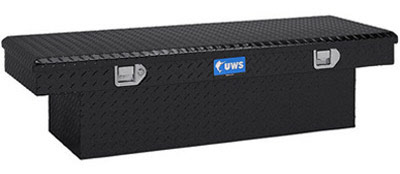 Interested in stainless steel locks or a matte black box? With over 400 variations on truck toolboxes available, UWS tool boxes color, feature and style options truck enthusiasts fully appreciate. Cap Connection has a number of their truck tool boxes for sale, including:
UWS Standard Profile
UWS Side Mount Series
UWS Utility Chest Series
UWS Top sider Series
UWS Drawer Slide Series

One of the most popular brands on the market, truck tool boxes from DeeZee are a hot commodity. From an Original Equipment Manufacturer (OEM), these toolboxes are non-rusting chests made from stainless steel and aluminum. Buy the DeeZee product you have in mind at Cap Connection, such as:
DeeZee Padlock Tool Boxes
DeeZee Crossover Tool Boxes
DeeZee Side-Mount Tool Boxes
DeeZee Tool Box Chests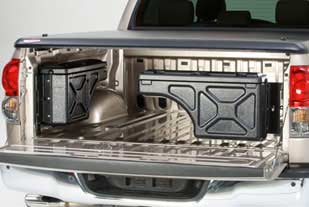 Noted as being the only portable utility case on the market, you won't find a swing case toolbox for your truck's bed anywhere else. Choose Cap Connection when purchasing this UnderCover Swing Case to access the benefits of this product, including, but not limited to:
Easy 5-Minute Installation
Holds Up to 75 lbs
Compatible with Soft, Hard, Folding & Rolling Tonneau Covers
Rustproof
The name says it all: Better Built tool boxes for trucks are manufactured to give you longer life and better durability through the elements. Products from Better Built are constructed from high-strength aluminum.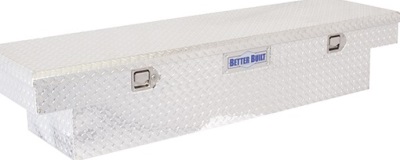 Invest in one of these toolboxes for trucks from Cap Connection today and you won't be looking for a replacement for years:
Crown Series
Special Addition Crown (SEC) Series
Heavy Duty (HD) Series
Contact the truck experts to inquire about toolboxes for sale at Cap Connection today!