Stampede Truck Accessories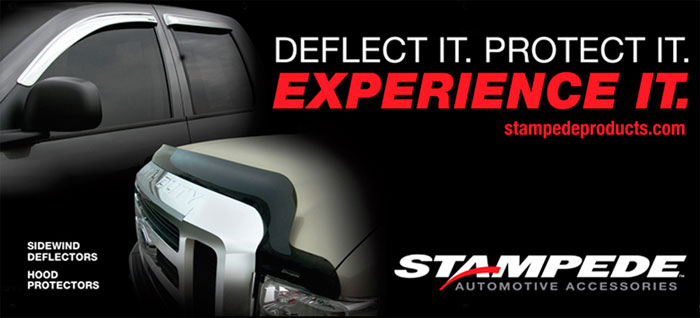 Your Vehicles Best Defense - Stampede Vigilante Hood Protectors!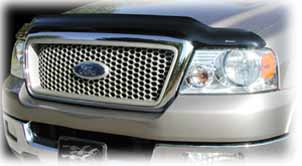 Waukesha's Cap Connection is your best source for premiere truck accessories and installation services. Customize and protect the hood of your truck with one of our high quality Stampede Vigilante Hood Protectors. As our understanding of aerodynamics has improved, our bug shields have improved as well. No longer are bug deflectors tall flat pieces of Plexiglas attached to the front end of your vehicle. Though the old look was effective, we now know it's the shape which matters. Allowing for the installation of new, better looking hood protectors, expertly designed to complement your vehicle and still provide optimal protection.
Premium Bug Shields Feature:
Our premium bug shields are scratch resistant, durable and UV stable, and feature a stand away design for easy cleaning. You can count on protection from rocks, mud, rain, and other road debris with our top of the line shields. Whether you are looking for a smoke, camo, or chrome bug shield, we have bug deflectors meeting your protection needs. Keep your truck stylish and protected by investing in our Vigilante Premium Hood Protectors.
Order a Bug Shield Visit the Shop
Specialty VP American Flag Hood Protector - 2911-30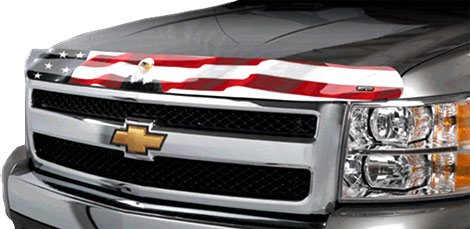 If you have great pride in being an American or living in America, we have a bug shield perfect to display your patriotism. Our Vigilante Premium American Flag Hood Protector stylishly parades the American flag and our symbol for freedom, the bald eagle, at the front of your truck. Our patriotic bug shield will protect the front of your truck, keeping it safe from bugs, dirt, rocks, and other road debris which may scratch or damage your hood. Whether you drive a red Ford, white Dodge, or blue Chevy; this American flag hood protector can complement any truck model or color.
Choosing a Vigilante Premium hood protector means your paint job will look great for longer, cleaning the front of your truck will be a breeze, and your American pride will be spread wherever you drive in Wisconsin and beyond. For high quality, trustworthy bug shields expressing your personality, trust Waukesha's Cap Connection!
You won't be disappointed.
Vigilante Premium Camo Hood Protector - 2139-17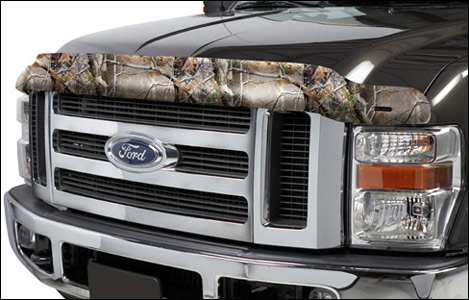 If you like to hunt or love camo, our Vigilante Premium Camo Hood Protector will fit your bug shield needs and your style perfectly. Not only will this bug deflector fit flawlessly with your personality, it will fit perfectly with your truck. The aerodynamic reverse flip protector is contoured to fit most hood designs.
The hood protector specialists at Waukesha's Cap Connection can help you determine whether or not this bug deflector will blend to the exact fit of your truck's hood. This bug shield is so effective because the hood protector creates just the right slipstream, lifting bugs up and over the front end of your truck.
Without a bug shield, flying bugs will smash into your vehicle, leaving difficult to clean guts on your hood and allowing flying rocks to scratch or dent your truck. Avoid these annoyances and potential damage by investing in our Vigilante Premium Camo Hood Protector.
Vigilante Premium Chrome Hood Protector - 2145-8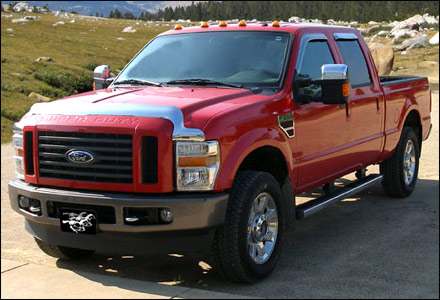 Cap Connection in Waukesha, Wisconsin offers Vigilante Premium Chrome Hood Protectors, perfect for trucks in need of a modern, clean look and for trucks already outfitted with chrome accessories.
Complementing your truck with chrome grills, window rain guards, Nerf bars, running boards, or rims, this bug shield also enhances trucks of all colors. The Vigilante Premium hood protectors are expertly designed with aerodynamics in mind. The shape of these bug shields ensures bugs and other road debris are swept up and over the front of your truck, protecting from bugs, rocks, dirt, and rain damage.
Investing in this chrome bug shield means you will enjoy a sleek and stylish truck accessory, simplifying the cleaning process of your car and keeping your paint job fresh. Trust Cap Connection for all of your truck accessory needs and ride in style with our chrome hood protector.
Vigilante Premium Smoke Hood Protector - 2264-2
Our Vigilante Premium Smoke Hood Protectors compliment virtually all truck styles and colors.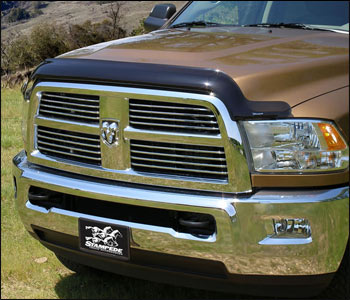 These bug shields are designed with an aerodynamic reverse flip, providing complete hood and front fender protection.
Waukesha's Cap Connection bug shield experts will help you determine if our smoke colored hood protector fits your truck's model, ensuring you are getting a bug deflector best suited for you truck's needs. We offer superior installation services, making certain your new bug shield is perfectly fitted to your truck.
If your truck has been without a hood protector, you know the havoc bugs and other road debris can wreak on your hood, making for difficult clean up and risking the chance of damage. The expertly designed and manufactured Vigilante Hood Protector will keep the front of your truck safe from bugs, rocks, mud, and road debris. Save time and money on truck wash products that do not work that great, retain the new truck finish for years to come.
If you take pride in your truck and want it to look its best longer, you will not be disappointed with an investment in our Vigilante Premium Smoke Hood Protector. Whether you are driving a Ford, Dodge, or Chevy in blue, black, white, or even pink, this bug shield will keep the paint job looking great.
CALL or STOP BY in Waukesha minutes from I94, west on Hwy 18 to see how Vigilante Hood Protectors look on your truck!