Draw-Tite Hitches
Draw-Tite Trailer Hitches Perfect for Lake Country Sailors and Boater
Since 1946, Draw-Tite has been designing, manufacturing and refining the trailer hitch. Today, they're recognized as the premium brand of trailer hitches. Whether you need to haul a car behind your RV or a small flatbed for your snowmobiles, there's a Draw-Tite hitch for any hauling job.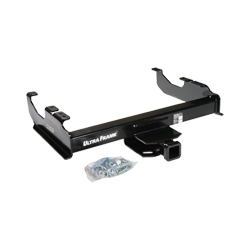 Draw-Tite doesn't cheap out on anything. Computer-aided design is used for all new products, and fatigue stress testing is done before any hitch goes into production. Built with solid, all-welded construction for maximum strength and safety, all Draw-Tite hitches are engineered for each vehicle's model year and weight specifications to ensure a perfect fit and trouble-free towing. All their hitches meet both V5 CSA and SAE J684 standards.
If you're looking for a trailer hitch that won't require a lot of modification to your vehicle, Draw-Tite is a great choice. Their systems require minimum drilling and cutting on bumpers, which is music to our ears, too.
Can't decide between CURT and a Draw-Tite trailer hitch? We don't blame you! Both are exceptional. Stop by and let our experts help you choose the trailer hitch best suited to your vehicle and towing needs.
Request a Trailer Hitch Visit the Shop
Draw-Tite Products Available at Cap Connection:
Trailer Hitches
Ball Mounts
Hitch Balls
Hitch Accessories
Brake Controllers
Electrical Wiring
Weight Distribution
Gooseneck Hitches
Cargo Management
Trailer Couplers
Trailer Lighting
Contact the Cap Connection for a Draw-Tite trailer hitch quote or visit our shop in Waukesha.