ACCESS ADARAC Racks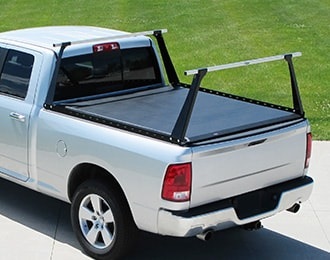 The ADARAC® truck bed rack looks like no other truck rack. Don't let its sleek design fool you, though, it was engineered to take on any job. Build with extruded aluminum cross bars and durable, powder coated steel uprights and rails, the ADARAC Truck Bed Rack system can easily handles loads up to 500 lbs.
The contoured uprights provide better aerodynamics and better rearward vision than other truck racks. And, let's face it, the whole system looks better than just about anything else out there. Added bonus: the uprights can be easily repositioned anywhere along the length of the mounting rail to adjust the length to whatever you're carrying, or they can be completely removed.
Request a Ladder Rack Visit the Shop
Easy Installation and Compatible with Tonneau Covers
Installation is easy, and requires no drilling on your truck. Durable aluminum stake pocket inserts secure the tie down rails to your truck. Want to add a tonneau cover? No problem. ADARAC designed this rack to work with ACCESS® Roll-up Tonneau Covers, as well as most inside-the-rail roll up tonneaus. Optional load dividers for the rack are sold separately.
ADARAC® Aluminum Series
Another great choice for your ladder rack is the aluminum series option. This model has taken feedback from it's customers to create a model ideal for difficult transportation needs and great for the day-to-day contractor. It arrives with a couple of key features:
Corrosion-resistant framework made for increased durability and strength.
No hassle tie-down rails with accessible rope holes
Built in Jamestown, North Dakota by Agri-Cover, Inc., the ADARAC Truck Bed Rack is available for Ford, Chevy, GMC and Dodge pickup trucks. ADARAC has the ladder racks you are looking to add to your truck.

The best place to buy an ADARAC rack system in Waukesha is Cap Connection. Call us today for pricing and availability.